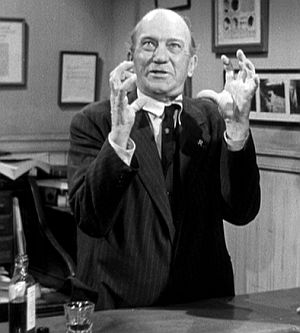 Sweeney is a private detective in Unfaithfully Yours, the owner and sole operative of Sweeney's Detective Agency (specializing in investigation, "secret service," and "special information.") Sweeney is hired by August Henshler to tail Daphne de Carter, wife of Sir Alfred de Carter; unbeknownst to Sweeney, Sir Alfred is oblivious of the fact, and heads to the agency to have it out with the private eye.
A burly, seemingly uneducated man of middle-age, Sweeney is in fact a passionate devotee of classical music, and a particular admirer of Sir Alfred. He recalls that when Sir Alfred conducted his maiden concert in the United States of America, people said "it takes an Italian or a Russian or a Dutchman to bring it out good." But Sweeney decided to "give the Limey a chance." When Sir Alfred encounters Sweeney, set to upbraid him, the detective showers him with praise, noting that "nobody handles Handel like you handle Handel" and his Delius is "delirious."
Taken aback by the unexpected reaction. Sir Alfred launches into a tantrum, calling Sweeney a "footpad" (thief) whose praise is an insult, and threatents to cut Handel and Delius from his concerts entirely. Sweeney is only slightly phased, however, perceiving that Sir Alfred is taking his jealousy and fears for his wife out on him. He discusses the report (unaware that Sir Alfred never read it), and suggests he give his wife the benefit of the doubt. When Sir ALfred tears up the document, the detective calls him a wise man, recalling how he lost his own wife (and his savings, piano, and his "little shack" by the beach), but should have been grateful for whatever time she was willing to give him.
Critic Jonathen Lethern, in a liner note essay for the Criterion DVD release of Unfaithfully Yours, notes that Sweeney "loves music, and Sir Alfred's in particular, with such redeeming influence that despite his degrading avocation he is a Buddha among men, a creature of pure forgiveness and understanding. Sweeney is therefore able to do what no one else in the film can: halt Sir Alfred's torrential bullying and put the conductor into contact with his own sadness. If Unfaithfully Yours has seemed a morbid diversion, now suddenly we see the point of connection with Sturges's earlier work, for this evokes Sullivan's Travels. Sweeney the detective is Unfaithfully Yours's equivalent of the audience of chain-gang prisoners who laugh at the Disney film and by doing so remind Sullivan, Sturges's previous stand-in, of what he was put on earth to do."