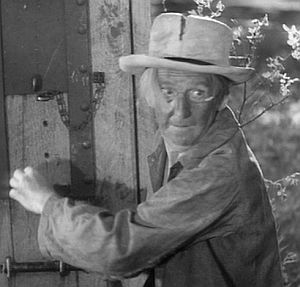 Jimmy Conlin (October 14, 1884-May 7, 1962) was a slight, bespectacled character actor with a piping voice who appeared in nine of the films written and directed by Preston Sturges, beginning with The Great McGinty and ending with The Sin of Harold Diddlebock. Conlin often played friendly but disreputable types, such as the trustee in Sullivan's Travels or Wormy in Harold Diddlebock. However, Sturges also cast him as civic leaders, such as Judge Dennis in Hail the Conquering Hero or the diplomatic mayor in The Miracle of Morgan's Creek.
A veteran of vaudeville, Conlin performed with his wife, Myrtle Glass. Entering films in the 1920s, he appeared in over one hundred shorts and feature films, often in B comedies or mysteries. He was frequently cast as doormen, piano players, and bums. Notable appearances includeed Rose-Marie (1936, as the piano player, with Nelson eddy and Jeanette MacDonald), My Little Chickadee (1940 as bartender Squawk Mulligan opposite W.C. Fields), Charlie Chan at the Wax Museum (1940), The Picture of Dorian Gray (1945), Dick Tracy's Dilemma (1947, as "Sightless"), and Anatomy of a Murder. On television, he played Jimmy the waiter on Duffy's Tavern and appeared in an episode of Philip Marlowe.
Sturges Filmography
Edit
Community content is available under
CC-BY-SA
unless otherwise noted.