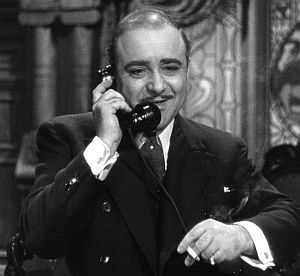 Akim Tamiroff (October 29, 1898 - September 17, 1972) was a Russian-born character actor who played The Boss in two Preston Sturges films, The Great McGinty and The Miracle of Morgan's Creek.
A graduate of the Moscow Art Theatre, Tamiroff emigrated to the united states and performed on Broadway and in nightclubs. Though many roles took advantage of his Russian accent, Tamiroff also found himself cast in a variety of "ethnic" roles, including Chinese bandit General Yang in The General Died at Dawn (1936) and Spanish guerilla leader Pablo in For Whom the Bell Tolls (1943); for both roles, he received an Academy Award nomination for Best Supporting Actor. Other ethnicities in Tamiroff's gallery included Cuban Carlo Cibo in Anthony Adverse, French Canadian Dan Duroc in North West Mounted Police (194o), and in later years, the Greek mastermind in Ocean's Eleven. He also worked with Orson Welles, as Uncle Joe Grandi in Touch of Evil (1958) and Sancha Panza in Welles' unfinished Don Quixote.
In addition to his two appearances as the Boss, Tamiroff's name also cropped up as a casting possibility for two other Sturges projects. In 1947, during the planning stages of Unfaithfully Yours, Sturges compiled a list of actors who resembled real-life conductors, possibly for use as the then unnamed protagonist. Akim Tamiroff is listed as a ringer for José Iturbi.[1]
In 1957, Sturges worked on a screenplay for a project to be called The Metamorphosis of Philip Musica, about an Italian grifter who becomes a respectable businessman, but is later destroyed. His notes suggest Tamiroff for the leading role.[2]
Sources
External Links